Noticeboard
Scroll down for older notices, click on the button of the notice you would like to view:
Noticeboard
Scroll down for older notices, click on the button of the notice you would like to view:
Help Needed
COMMODORE'S COMMENTS – 12 May 2020
SPECIAL NOTICE + COMMODORE'S COMMENTS – 20 APRIL 2020

20th April 2020
COMMODORE'S COMMENTS – 20 APRIL 2020
Greetings to all members of the PYC Community. We are living in unprecedented times, and we have no certainty when our lives will be able to return to normal. Certainly this Covid-19 pandemic has come very close to home with Ethekwini being declared as the Epicentre of the outbreak as far as KZN is concerned. This virus was instrumental in taking the life of our member Mike Bennett earlier this month while he was in hospital recovering from surgery. Many members have expressed their condolences on social media, but from myself and the General Committee, our heartfelt condolences go to Jeanette and her family.
Not only has it been necessary to cancel and/or postpone a number of major events (Deep Sea Angling Youth Nationals; J22 World Championships; Easter Regatta for Hobies and 505s), but our Club has had to also close down entirely. The daily trade within our Club and the revenue generated through these events is vital to the economic sustainability of PYC, and had it not been for this Lock Down we were on track to finish the financial year with a modest profit. Much hard work and inventive thinking has been performed by the Finance Committee as well as our staff in the office – Club Manager – Darryl Williams; Accounts – Lorna Kenchenten; and Membership – Sue Marshall. It is so frustrating seeing the fruits of this effort being effectively wiped out by the zero revenue turn-over since Lock Down begun.
Some positive news has been reported by Mike Surgeson – the water in the Marina is the cleanest that it has been in decades with visibility of 2 metres from the surface becoming the norm. Mike further mentioned his investigation of loud snapping noises that he heard from his boat, only to see Musselcrackers (a fish normally found in deeper waters) taking mussels from the pontoons.
Loosely, the definition of a "Club" is: 'An association or organisation of people dedicated to a particular interest or activity'. Without members a Club cannot exist. Point Yacht Club is no different from this. Being over 125 years old, having an established Clubhouse and facilities in one of the most prime positions in Durban as well as full time staff, the Club is there for you and I, and it is our collective responsibility to support and keep the Club sustainable and functioning.
Whilst all staff have been instructed to stay at home and the line staff are therefore unable to perform any of their duties, we do have 24 hour security at our Club, while Darryl, Lorna and Sue are working as hard as ever from their homes. If anything, they are probably working more effectively because they are not being interrupted by people calling in at the reception window! Certainly I am seeing an increased number of daily e-mails as we seek financial solutions to keep the Club afloat.
It is not a secret – the absence of turnover over the past 3 to 4 weeks has wreaked havoc with our cashflow, as well as our bank account balance. If the Lock Down continues to be extended indefinitely and there is not an increase in pro-active financial support from members, there is a real chance of us losing our precious Club altogether, and I certainly do not want to see that happen.
An indisputable fact is that Yachting and Ski-Boating are sports/pastimes that do require considerable capital outlay, and are therefore the domain of the more affluent society. Certainly in recent years the various development programmes have seen the entry of people from less affluent communities into our sport, and you will see from today on the various PYC social media platforms a report from Jackie de Fin on the initiative undertaken through Sail Africa to provide food parcels to some of those people where the task of simply providing a meal for the day is presently a real challenge. I encourage all PYC members to read through these articles and to support this project financially, knowing that those benefiting are not faceless and nameless individuals, but people who have participated in our sport with us.
But the reality too is that we have to also worry for and take care of our Club. Disappointingly, there is a significant amount of money owing by members to PYC, much of it for subscriptions, where members have failed to respond to invoices and even direct telephone calls requesting payment. I appeal to each and every one of these people – please respond either with payment, or communicate with the office ([email protected]) and let us have a structured undertaking of how a settlement plan can be arranged. I thank those who have responded positively thus far.
So, whilst the first strategy is to recover overdue funds, there will also be current invoices being distributed in the near future – please would you all pay attention to those and settle promptly.
Within the next 10 days the General Committee will be publishing the subscriptions for the 2020/2021 year. We have had to re-design the model that had been intended due to there not being any opportunity to schedule a Special General Meeting before the end of April. It is the obligation of every PYC member (except for Life and Honorary members) to pay annual subscriptions, where these can be paid either annually, or by monthly debit order. Sadly many members do not commit to either of these options, and that non-action results in arrears and defaulting accounts. Please, if you are one of these members, I appeal to you to comply with either of these, as it will make the Club a better place for all of us.
But, these new subscriptions are only due from 1 June, and we need funds in the bank account sooner than that, like, RIGHT NOW! A simple request can always be to appeal to members to  DONATE  funds to the Club, and whilst that option is not to be ignored, it is not anticipated to be a widely popular option. However If you are in a position to donate funds, perhaps in acknowledgement  of the years of pleasure gained from being a member of PYC, then I ask that you do so. Any amount, no matter how big or small will be sincerely appreciated.
For the broader PYC membership we have come up with an incentive of PAY NOW, and ENJOY A DISCOUNT for the remainder of 2020. Appearing herewith is the marketing poster as well as a sample of the voucher that members can purchase. Quite simply, for multiples of R235 paid into the PYC bank account, contributors will be allocated a corresponding number of R250 vouchers redeemable at any of the PYC facilities. Enquiries should be directed to our Club Manager via e-mail to [email protected]
Personally I can hardly wait for Lock Down to be over so that I can get my boat back onto the water. When Social Distancing is deemed to be no longer necessary I look forward to a "Welcome Back" celebration at our Club.
I trust that these sobering thoughts convey the predicament that our Club faces, which we alone have the power to influence. I hope that as a result we will witness the support of our members to carry us through these difficult times, back into better times to be shared on the water.
Myles White
Commodore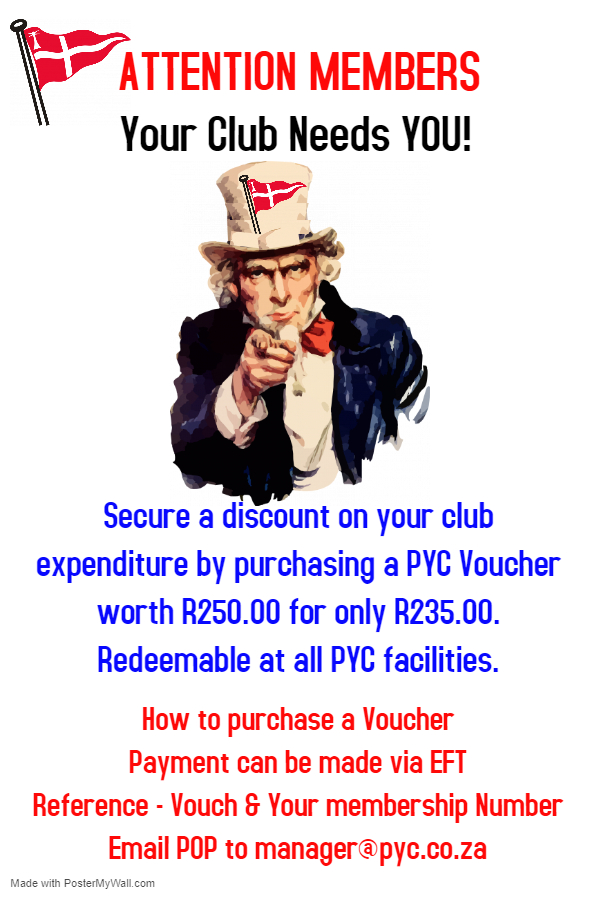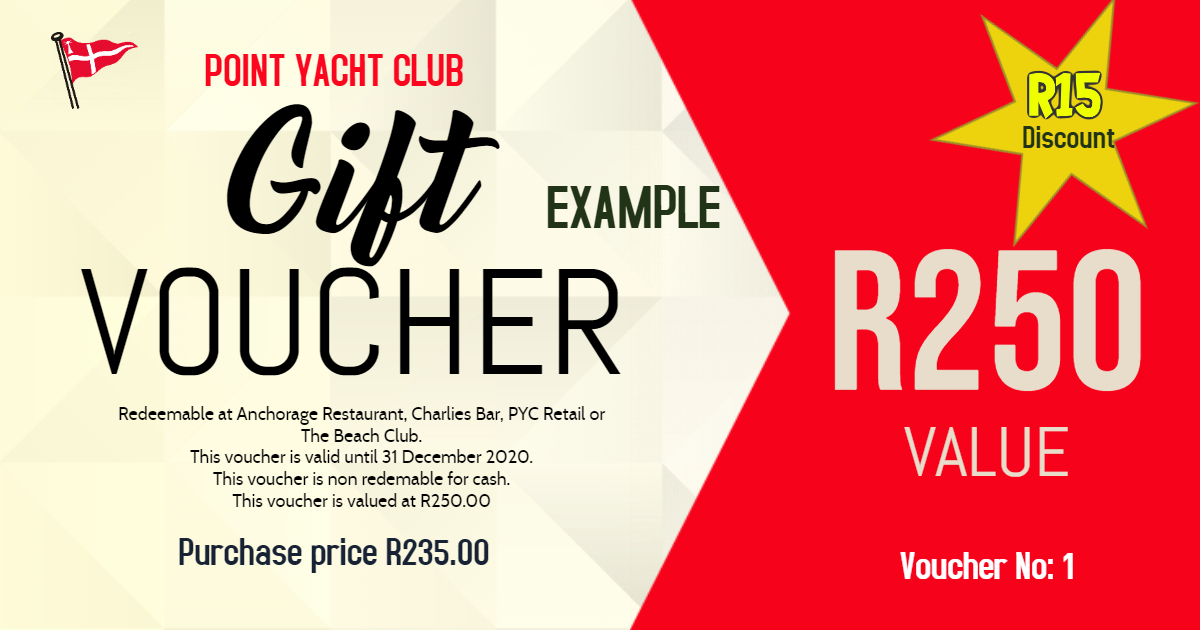 COMMODORE'S COMMENTS – 21/1/2020
Greetings to all, and welcome to 2020. Pleasingly there has already been enthusiastic activity within the ski-boat, dinghy and keeler fleets, with associated social activities being planned. At the same time the Cape to Rio race is taking place, and I am enjoying monitoring the progress of team Zulu Girl Racing on CFM – the only Durban based boat in the race, but which has featured near the top of the leaderboard throughout the race thus far.
Congratulations to the "PYC Pirates", ably led by Struan Campbell, who initiated the practise of expropriating an item of regalia from Zululand Yacht Club during the Sangoma Cruise, compelling them to return the courtesy of sailing to PYC, recovering their item, and in turn taking something of ours, requiring a return visit by us in the not too distant future. I look forward to this developing further.
A Social Committee is being formed – being a Club we need volunteers to join those who have already agreed to join this team, so if you are willing to contribute please let our Manager Darryl know, so that he can convene the team that is going to make our Club even more fun to be at.
While talking of progress – we anticipate the beginning of a new era for Point Yacht Club as we take occupation of our new beachsite, even if for the time being it is merely a rustic, empty shell.  We will however be customising the venue to members' liking, and we intend developing it into a destination of choice.
Our plans have been submitted to the developers for approval, while we are expecting to be given possession of the venue with effect 1 February – plans approved or not.
For those of you who have already taken a walk along the new promenade, as well as having taken a look through the windows and gates into the parking areas, there can be no debate that it is a World Class Development.  There can also be no argument that what we will have going forward, will be completely different from the old PYC beachsite, with one of the most noticeable changes being the absence of a boat-park.  It must be noted that our neighbours, the Point Watersports Club, are facing precisely the same issues – not even one ski-boat will be accommodated, despite the ski-boat shelters having been a fixture at Vetch's for decades before.
The reality is that all four of the Clubs who have operated from Vetch's for many years have worked with the development company to achieve this world-class facility.  This will continue into the future as and when the next phases of building multi-story hotels immediately behind the promenade begin.
It has been a challenging and lengthy process and our thanks go to our PYC Beachsite Development representatives who put in countless hours to achieve what has been built today. These include Tony Alison and Rob Goulden back in the early 1990's and then Gavin Smith and Rob followed by Nigel Milln, Rob, Campbell Alexander and Chris Clarke and then Rob and Nigel who handed over to Trevor Donald and Tony Alison who handed over to Dave Cuthbert and Craig Millar. Besides these loyal Club members there have been a number of members such as Billy Ellens and Sean Fennessy who have contributed in no small manner. We must retain and look back at the masterful architectural concept- sketches by Billy Ellens which recorded each step of the way. Special mention must be made of Rob Goulden's contribution over the longest period when he rarely missed a beachsite related meeting and always made his viewpoint known.
Now Henri Frencken, standing on the shoulders of the work done by those before him, is leading the team to negotiate and implement the final concept and business plans and the fitting out of our new clubhouse.  Henri is no stranger to property development and his skills over the past few months have been invaluable. Many of his plans are being kept quietly under wraps until the big reveal, but what has been made known is that to achieve making our beach site into a destination of choice, we need to source around R2,000,000 in capital. Debates have taken place over how this funding can be sourced, with the result being that acting like a Club is going to be best.
In the near future all members will receive notification of a Special General Meeting to take place on Thursday 13 February, where one of the topics to be discussed and voted on will be this funding programme. In short, we hope to attract 20 individual members, or syndicated groups of members who are each willing to loan R100,000 to PYC specifically for the fitting out of our new beach site venue. Note, these will be loans, and not donations, and the intention is that they will earn interest for the lenders until repaid.
Please give serious thought to being a participant in this programme, and feel free to bring your questions to the SGM. The Beach Site and General Committees are highly confident that Henri's plans will result in a venue that is highly attractive for existing members, and will also attract new members whose revenue will help to ease the cashflow strain that we have been under, while the new venue is expected to run profitably and be self-sustainable.
It stands to obvious reason therefore that PYC needs to be presenting a content, enthusiastic and united face to the public and prospective new members. Although not without challenge, we have exciting times ahead, so let's make the most of them.
See you on the water!
Myles White
Commodore